Step inside a magical
cabana
of love with your sweetheart on a special day to have a memorable celebration. Cabana decorations are an excellent way to enhance any special occasion, such as a
wedding
anniversary
or a
birthday
. You can even propose to the love of your life inside this graceful setup! It can be a perfect setting where you both can also enjoy a cosy and
romantic dinner
together. A simple cabana can be created into a lovely and romantic place with elegant decoration props. Plan a dinner date night at your terrace or in your bedroom for them with this gorgeous
canopy
setup. Make sure you order food from their favourite outlet to make the surprise more impressive. Surprise your love on a special day with this idea and leave a lasting impression on their heart! This is one of the best date night ideas for couples nowadays. Create a beautiful memory together by choosing one of these ideas. 1.
Mesmerizing Cabana Decoration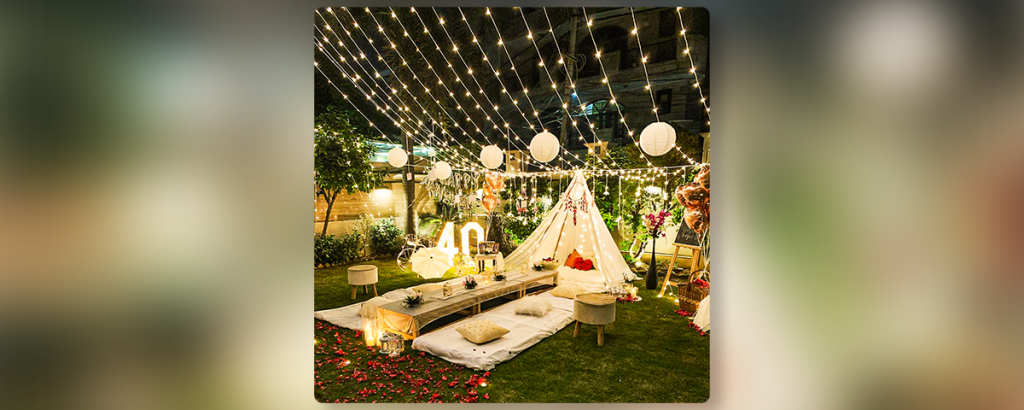 The
mesmerizing cabana decoration
seeks to create a wonderful and charming ambience. This decoration has a light colour theme and includes elements like fairy lights, rose petals, helium balloons, lanterns, candles, a mattress and a lot more. This decoration setup is an excellent choice for planning a grand birthday or anniversary surprise for your love! Invite all your loved ones and have a good time together. 2.
Pleasing Cabana Decor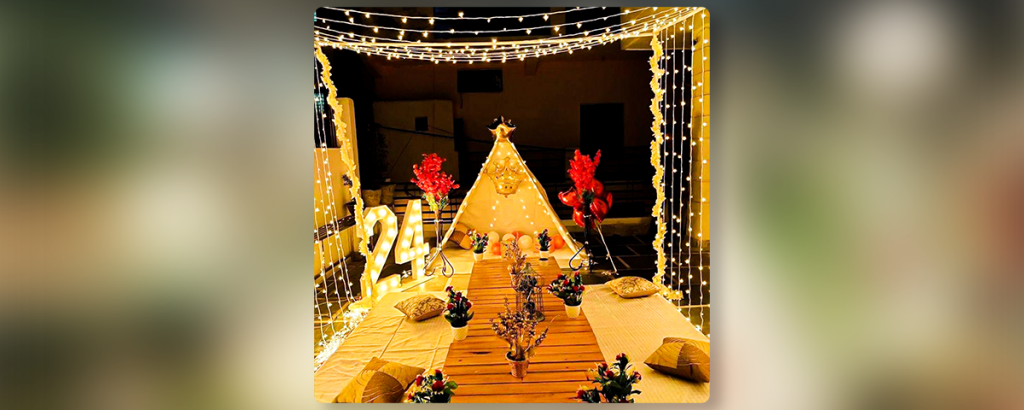 Blindfold them and take them towards your beautifully decorated terrace with a l
ovely cabana setup
. Surprise them in the most beautiful way with this gorgeous arrangement. Please their heart with this extravagant date night. The decor has a comfortable canopy setup that is adorned with props like fairy lights, heart-shaped foil balloons, numeric LED lights and more. It's simply perfect for a wedding anniversary party and romantic dinner on the terrace. 3.
Lightning Cabana Decoration
A beautifully lit
cabana decoration
on the terrace will leave them spellbound! This exquisite setup is sure to create a romantic ambience where you 2 can enjoy a dinner date night. If they like watching movies, add that to this setup and celebrate special moments together. With elegant lighting, floral bunches, leafy vines, LED candles and more this is a perfect idea to surprise your love on your anniversary or Valentine's Day. 4.
Cosy Cabana Decor Setup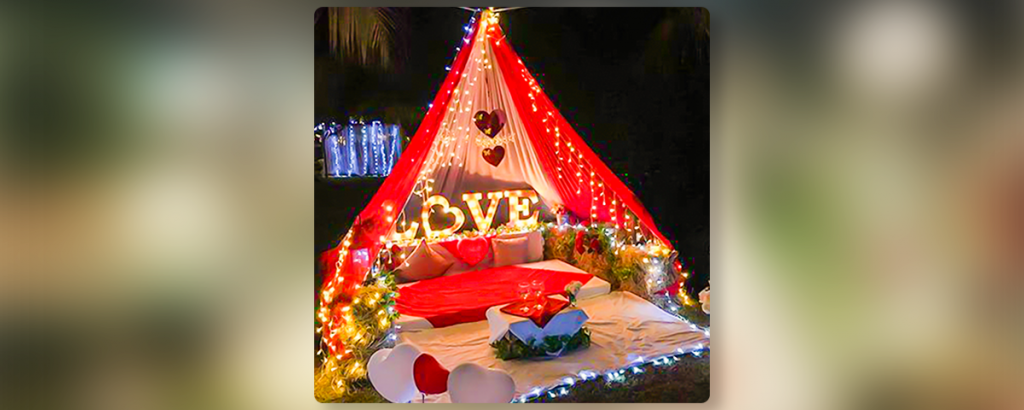 The romantic and dreamy ambience is what makes this
canopy decoration
the best of all. If you want to enjoy a private candlelight dinner in a rooftop cabana, choose this alluring setup. With a white and red colour theme, the decoration looks very pretty. Fairy lights and "love" LED initials simply beautify the overall look. Sit inside this gorgeous setup with your partner and spend some quality time together. This decoration idea is great for spending a romantic evening at home with your significant other on a special day. 5.
Love
Romantic
Cabana
Decoration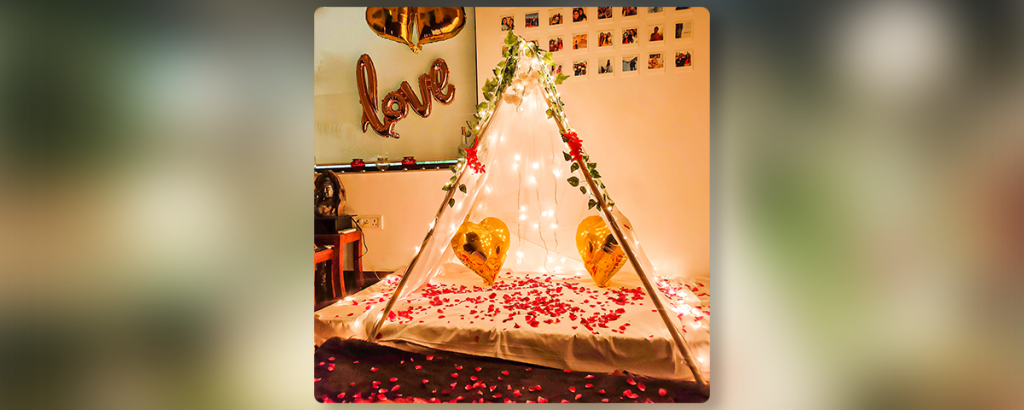 This is a perfect idea for planning a special surprise in your bedroom for your love! The fancy setup has a
romantic
canopy
with white curtains. It's nicely decorated with leafy vines, flower bunches, heart balloons, rose petals, "love" foil balloons and more. You can choose this romantic balloon decoration for your 1st night celebration also.
Cabana decoration
s can transform every special event into a wonderful and unforgettable
experience
. With a correct idea, you can impress your love easily! These decor ideas are sure to create a lovely and magical vibe, perfect for all
celebrations
.
Source link